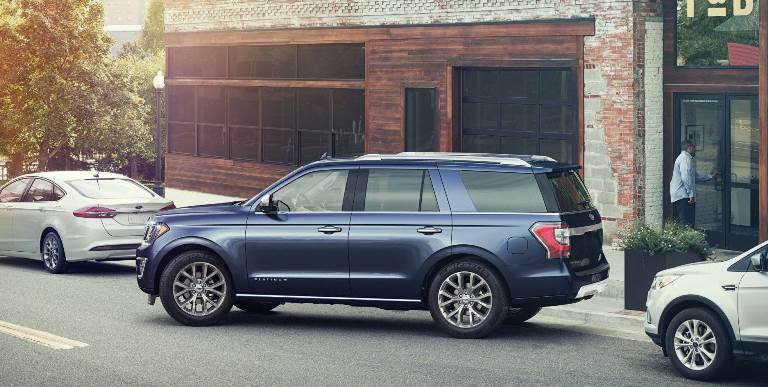 When you're looking for a new automobile, you shouldn't have to compromise. If you require ample seating, you should get it. It you want a powerful vehicle that can tow your camper, boat, or dirt bikes, you should have it. If you want a handsome automobile with rugged good looks, that's exactly what you should get. And you can have all those things and much, much more when you buy or lease a 2018 Ford Expedition once it arrives at our Indianapolis, IN Ford dealership.
The new Ford Expedition is a traditional truck-based SUV that has three rows of comfortable seats. Able to accommodate up to eight passengers, the Ford Expedition is a great pick for large families and people who carpool with their adult coworkers regularly.
With the 2018 Ford Expedition capable of towing more than 9,000 pounds, the sturdy SUV is also a smart choice for outdoor enthusiasts who travel with lots of equipment and people looking for a capable work vehicle. Equipped with a powerful six-cylinder engine, the Ford Expedition appeals to drivers who simply want to enjoy a robust ride to and from the office every day as well.
The new Ford Expedition is available in three trims that are as nice-looking as they are versatile, the XLT, Limited, and Platinum. The SUV's 3.5-liter, six-cylinder engine is paired with a quick-shifting, 10-speed automatic transmission. The 2018 Ford Expedition is offered with either rear- or four-wheel drive.
The Ford Expedition isn't just ready for your next outdoor adventure or jaunt to the office. It's also prepared to get you to your destination in comfort and style thanks to its features. While the SUV has plenty of standard equipment, the vehicle is also eligible for desirable optional features, which makes the Ford Expedition highly customizable.
To build your very own 2018 Ford Expedition, visit Tom Wood Ford today!