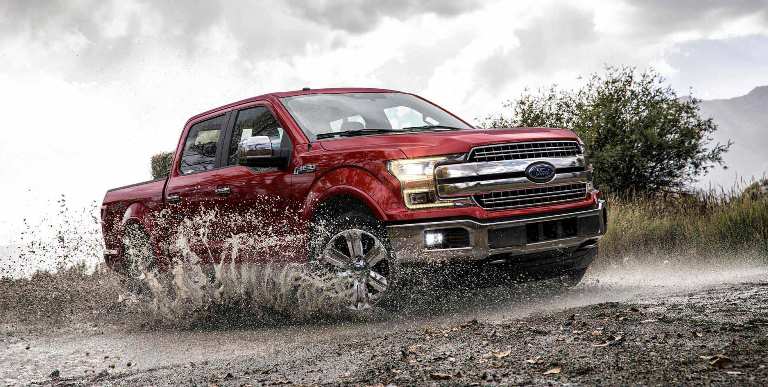 If you're like many Ford enthusiasts, you love the 2018 Ford F-150. Offering plenty of power, the latest technology, and a ride that's pleasant even when the terrain you're traversing isn't, there's a lot to admire about the new Ford F-150.
While the Ford F-150 is enough truck for a lot of people, you may need even more power on occasion. And that's exactly what the 2018 Ford F-450 delivers – power.
For the 2018 model-year, the Ford F-450 4x2 Crew Cab will join the lineup of Ford Super Duty pickup trucks. When it hits the market this winter, the 2018 Ford Super Duty F-450 4x2 dual rear-wheel pickup will be offered in the following trims: XL, XLT, Lariat, and Platinum. When equipped property, this pickup truck boasts 34,000-pounds of gooseneck towing capacity.
"[Ford] Super Duty customers expect the best, and for 2018 we're giving our customers even more power and torque from our 6.7-liter Power Stroke diesel – delivering the most horsepower and torque available among all heavy-duty pickups," said Todd Eckert, Ford truck group marketing manager. "Plus, our new [Ford] F-450 pickup now includes a 4X2 model, enabling our customers to get more done with the segment's best payload and towing."
In addition to having best-in-class gooseneck towing, horsepower, and lb-ft of torque, the new Ford F-450 also has best-in-class conventional hitch towing and payload capacity. When adequately equipped, the 2018 Ford F-450 has a 21,000-pound conventional hitch towing capacity and the truck has a 7,630-pound payload capacity.
While we don't have the new Ford F-450 at our Indianapolis, IN Ford dealership just yet, we do have a full inventory of the latest Ford models. Whether you want a mighty pickup truck, a comfy sedan, or a family-friendly hybrid vehicle, you'll find it at our Ford dealership. Visit Tom Wood Ford today.